zNews > Product Blog > Lenovo ThinkPad P53 i9 20QN002KUS Workstation Laptop
Lenovo ThinkPad P53 i9 20QN002KUS Workstation Laptop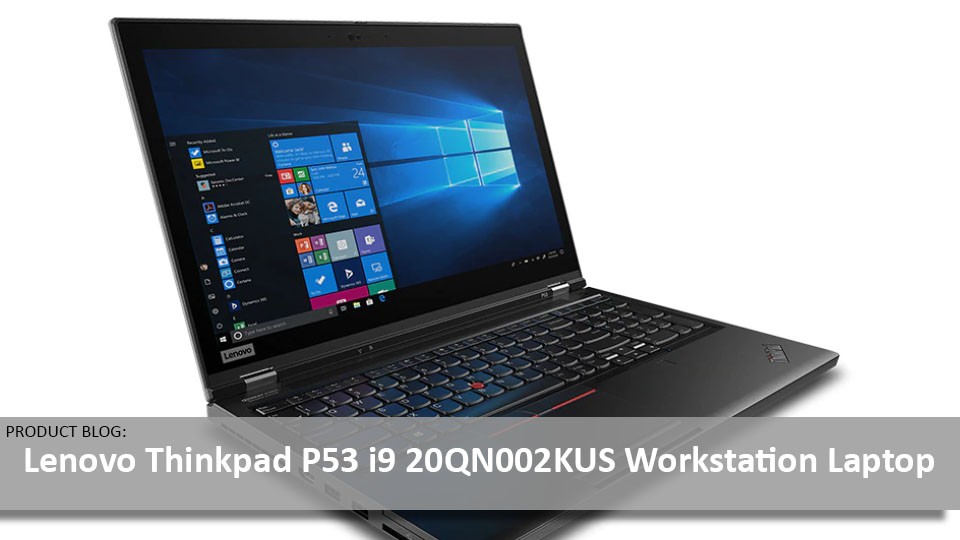 Blending the power of a workstation and the mobility of a Laptop is the magic Lenovo has put in the Lenovo ThinkPad P53. It is created to serve Engineers, Architects, Scientists, and Video & Content Creators who need power and mobility at the same time.
Key Features
• 15.6" HDR 400 FHD 1920 x 1080 IPS Screen
• NVIDIA Quadro RTX 4000 Max-Q (8GB) Video Card
• 2.3 GHz Intel Core i9-9880H 8-Core – 16 Thread Processor
• 16GB DDR4/2666MHz Standard or (zTecpc can customize up to 64GB DDR4/3200MHz)
• 512GB M.2 PCIe NVMe SSD standard or (zTecpc can customize up to 8GB PCIe NVMe SSD)
• HDMI 2.0 | DisplayPort over USB Type-C
• USB 3.1 | Thunderbolt 3 | SDXC Card Slot
• Wi-Fi 6 (802.11ax) | Bluetooth 5.0
• Gigabit Ethernet
• 720p Webcam & IR Webcam
• Windows 10 Pro (64-Bit)

Custom Upgrades Available
If the standard configuration is not enough for your needs, zTecpc trained technicians can upgrade your device with the power and performance you are looking for. Need more RAM? Upgraded M.2 Slots? Thermal Cooling solutions? Design the configuration you want on our site and we will build your Custom PC to order!
Processor
This model has an Intel 9th Generation 2.3~5.0GHz Intel Core i9-9880H 8-Core – 16 Thread Processor.
Display & Graphic Card
The Lenovo ThinkPad P53 comes with a 15.6" HDR 400 FHD 1920 x 1080 anti-glare IPS display that features a 16:9 aspect ratio, and 250 cd/m2 brightness. Its sharp and clear picture comes from a dedicated NVIDIA Quadro RTX 4000 Max-Q graphics card that has 8GB of GDDR6 VRAM. Enjoy extended contrast on the screen, refined details, and colors that are energetic. Not only this, but you still will be able to output video to an external display at resolutions up to 4096 x 2304 @ 60 Hz using the system's USB Type-C port and up to 4096 x 2160 @ 30 Hz using the HDMI 1.4b port. Last, but not least, you can enjoy three independent external displays, or more if needed, using a docking station.
RAM (System Memory)
It comes equipped with 16GB of 2666 MHz DDr4 RAM, which is upgradeable by zTecpc to 64GB DDR4/3200MHz, to help you run multiple applications at the same time.
The combination of the Processor, Video Card and the DDR4 RAM makes this a powerful workstation!
Storage
Lenovo didn't forget that you need to have room to operate and to store your files so that you have your needs fulfilled. The Lenovo ThinkPad P53 comes with a 512GB M.2 PCIe NVMe solid-state drive, that is upgradeable by zTecpc to 8TB. The speed of the NVMe SSD is amazing when compared to SATA SSDs or mechanical hard drives.
Connectivity & Other Features
In this model, you will get two 40 Gb/s, Thunderbolt 3 ports that support DisplayPort, and 10 Gb/s data transfer over USB 3.1 Gen 2 Type-C ports. There is an additional DisplayPort-equipped USB 3.1 Gen 2 Type-C port. Two 5 Gb/s USB 3.1 Gen 1 Type-A ports are also available standard. Memory cards may be accessed via the built-in microSD card reader that supports SD, SDHC, and SDXC.
For wireless and wired networking, you have an Intel Wi-Fi 6 AX200 2x2 w/ Bluetooth 5.0 and Gigabit Ethernet built-in. And the Bluetooth 5.0 technology makes you able to connect additional wireless peripherals.
Other standard equipment includes a 720p webcam, fingerprint reader, dual-array far-field microphone, and stereo speakers with Dolby Audio Atmos sound system.
The ThinkPad P53s Mobile Workstation is powered by a 230W slim tip power adapter and a 90Wh battery, which provides up to 16.5 hours of use before recharging is required. The Lenovo ThinkPad P53comes with Windows 10 Professional (64-bit) pre-installed.
Security & Dependability
Keep your personal or business information, your privacy, and your protection safe with the ThinkPad P53 mobile workstations' far-reaching set-up of ThinkShield security highlights. The match-on-chip unique fingerprint reader utilizes biometrics to log you in with a basic touch. Or utilize the IR camera with Windows Hello to sign in with your grin.
Since you need dependability, the ThinkPad P53 portable workstation is tried against 12 military-grade prerequisites and in excess of 200 quality checks to guarantee it runs in outrageous conditions. From the Ice wild to dust storms, from zero-gravity to spills and drops, you can assure this PC will deal with whatever life tosses your direction.
Warranty
Limited warranty – 3 years – pick-up and return, Limited warranty – battery – 1 year
Check out the Lenovo ThinkPad P53 i9 20QN002KUS Workstation Laptop HERE