zNews > Tech Blog > What is RAM? How Much, and What Kind Do I Need?
What is RAM? How Much, and What Kind Do I Need?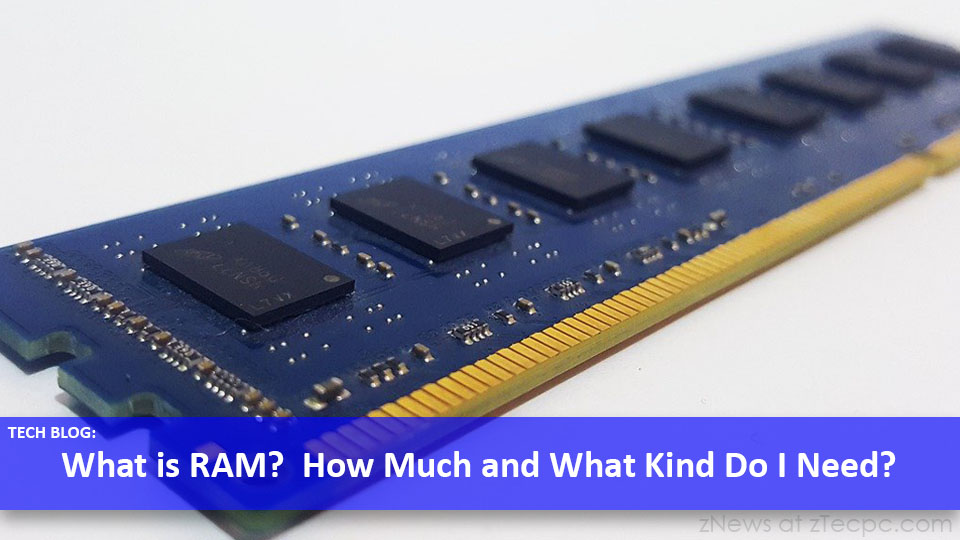 Think of RAM (Random Access Memory), or System Memory, as the front half of the top of your desk. That is where you want the things you use the most and want to be able to access the fastest. For how you use the back half of your desk, see 'What About Storage Drives?'

For a detailed technical explanation, Wikipedia does a good job. "What is RAM?"
zTecpc and/or the manufacturer's products we sell, only use high quality OEM System Memory (RAM) as Standard. We do not advertise the brand or model of the Standard RAM because neither the manufacturers nor zTecpc will always use the same ones, so do not want to be locked into any particular brand. However, zTecpc only uses high quality memory for any of the laptops we build…we cannot afford to provide tech support and warranty service for the cheap stuff!
If you want to overclock your RAM timings using Intel XMP please select Premium RAM. We use, at our discretion, Kingston HyperX, G.SKILL Ripjaws, XPG Flame, Team T-Force Vulcan or Night Hawk, Corsair Vengeance, or Crucial Ballistix for our Premium Memory upgrades, all of which support Intel XMP.

For RAM to operate in DUAL CHANNEL mode you will need matching pairs. Single pieces will only operate in single channel mode at about half speed.

The amount of RAM you have will determine how many files you can have out on the front half of your desk. So, this is where you decide how big you need, or want, your desk to be. For business productivity, streaming, browsing, and email for example, 8GB (2x 4GB) is fine. For gaming and most other applications the 'norm' in 2020 is 16GB (2x 8GB). For content creation, forensics, scientific and other software that crunch a lot of data, pulling from several locations, you can go to 32GB (2x 16GB), 64GB (2x 32GB or 4x 16GB), or 128GB (4x 32GB) in laptops, and beyond in desktops.